Beaches
Nearby beaches where you can enjoy swimming :
Agios Ioannis Porto

The bay of AgiosIoannis Porto is located 6klm east from the town of Tinos and in the past used to be a port. The beach of AgiosIoannis one of the most popular beach of the island, lies next to the homonymous settlement and stands for the natural beauty. In the beach you can find shady trees and nearby a picturesque little church.
Agios Sostis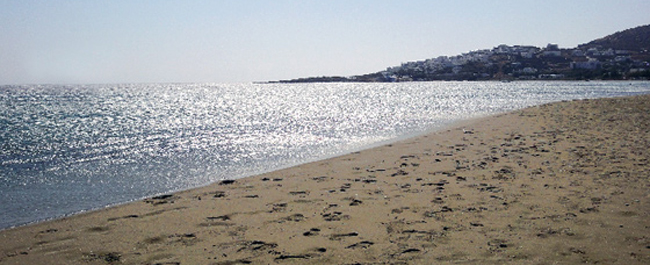 It lies 5klm east from the town of Tinos, along the southern shore of the island. The area was named after the little church of Agios Sostis. It is a very popular beach as well as a very big one and it stretches up to the beginning of the beach of Porto, whereas somewhere in between the name changes to Skiladari. It is one the safest beaches due to its clean and mallow waters . In the area there are a lot of taverns where you can enjoy your lunch.
Pahia Ammos

One of the best beaches of Tinos remote but idyllic behind the beach of Porto with a thick and golden sand and bluegreen clear waters, The beach is ton accessible by car. You mast park your car and walk for about 10 minutes. Make sure you have an umbrella for the sun, you won't find any place with shade. Don't be averted to go if you hear all this, is not an organized beach since Pahia Ammos satisfies all tastes.